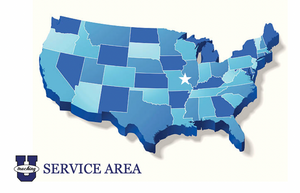 Get all your items packed, shipped, and delivered to your dorm room without ever having to leave your home. Skip the delays and hassle of schlepping your items to WashU, and have everything waiting in your dorm room when you arrive! This service is available to all students in the contiguous United States.
It's as easy as 1234
We ship you our UTrucking kit (5 heavy-duty boxes, tape, bubble wrap, and packing paper). Kits will ship out to your home from our warehouse in St. Louis starting June 15, 2023.

You pack and ship as many boxes as you need back to us using the included prepaid UPS shipping labels. 

We only charge you for the boxes you use ($95/box). Need more boxes? Just let us know!
Drop off your boxes at the UPS store by August 10 or schedule a UPS home pickup here.
All boxes received by August 15 will be delivered and ready in your dorm room when you walk in for the first time. Now that's a hassle-free move-in!
*Please note boxes received after August 15 will not be delivered until after move-in.
The $95/box includes our UTrucking kit, shipping, and delivery to your dorm/apartment at WashU!
Questions? Call us at (314) 266-8878 or email info@utrucking.com.