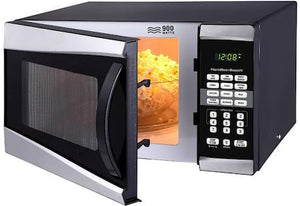 Our microwave rentals can stand alone, but are also the perfect size to be able to fit on top of any of our different fridge rental options. This is a popular combination and a great way to save space in your dorm room!
Service

We know finding a microwave for your dorm room or apartment can be a hassle, between transporting it to campus, carrying it up flights of stairs, and paying for storage in the summer. That's why UTrucking is here to help! Take advantage of one of our most popular services and let us deliver your microwave right to your room. Then at the end of the rental period, we'll come to pick it up so you don't have to lift a finger!
Quality Guarantee 
All appliance rentals are professionally cleaned, inspected, and tested to ensure they meet our strict quality standards, and will be replaced free of charge should any issues arise during your rental period.  
Product Specifications
Height: 10.2 in
Width: 17.3 in
Depth: 13.0 in
** Measurements are only intended as a guide and may vary slightly based on brand differences.
Pricing
Price listed includes delivery directly to dorm room or apartment, appliance rental until conclusion of the spring semester, pickup from dorm room or apartment, and any necessary service or replacement during the rental period.
Also included at checkout is a refundable deposit. This deposit may be refunded if the appliance is returned at the end of the rental period and is clean (free of food, water, mold, ETC.), undamaged, and in good working condition with no interior pieces missing.