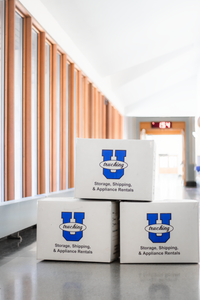 If you are taking any leave of absence (academic, personal, medical), UTrucking has partnered with WashU to help. The service includes packing supplies, pickup from your dorm room or apartment, and we can offer packing services if you are no longer in St. Louis.

How To Sign Up
Packing Supplies: Choose how many UTrucking kits you would like (each kit includes 5 boxes, tape, and bubble wrap). We deliver your kit to your door at least five days in advance of your pickup date. The first kit is included with registration; each additional kit is $30. Unused packing supplies can always be returned at pickup for a full refund.

Insurance: Select your preferred insurance option.
Schedule a pickup: Add this service to cart and proceed to checkout, where you will be able to schedule a pickup by inputting a pickup date, time, and address. If your desired pickup date is not available at checkout, please email info@utrucking.com, and we can accommodate. Also, please contact us if you are no longer in St. Louis as we can coordinate with WashU to obtain access to your room.
Let us handle the rest! We come right to your dorm room or off-campus apartment and pick up your items right from your door. When you'd like your items back, sign up for storage item return, and we'll deliver all of your items to your dorm room or off-campus apartment.
*Students commonly sign up for our Home Shipping service in addition to storage. This is because they have items to store but also would like to ship some items home. If this is you, please sign up for both services, and we will pick up all of your items at the same time.
Our Service Is Second to None
Packing supplies delivered to your door.
Pickup right from your dorm room or apartment.
Storage in our secure, climate-controlled facility.
Delivery to your new dorm room or apartment after the summer. 
Store Absolutely Anything
From boxes, suitcases, and plastic bins to larger items like bikes, couches, and lamps, you can store absolutely anything! There are no size, weight, or quantity restrictions. Store as many items as you need, even items that don't fit inside a box! Label each item with your name, "Storage," and item count (1 of 9, 2 of 9, etc).  
Flexible Pricing
Storage is priced per item, so you only pay for what you store. No need to let us know how many items you plan to store beforehand, as all of your items will be invoiced at the time of pick up. Our pricing list includes our most commonly stored items. If your item is not on the list, we would be happy to give you an estimate at info@utrucking.com.
The $49 registration fee secures your pickup slot and includes delivery of our UTrucking kit (5 boxes, tape, and bubble wrap). 
Insurance
Every box or bag automatically comes with $100 of included insurance. Items not in boxes or bags don't carry insurance. You may purchase additional insurance for the entire order by selecting the option above.